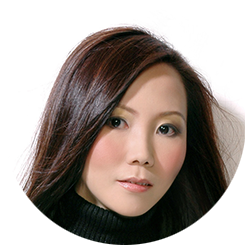 Eunice Tan
Founder of Image Flair
Eunice Tan is an internationally-recognised expert in personal grooming and business etiquette, having worked with many high profile clients in the fields of business, education, media and government.
Before founding Image Flair Academy of Modern Etiquette and Etiquette Plus™ Academy, Eunice accrued nine years of extensive experience with Singapore Airlines. Prior to becoming a flight attendant, she gained specialist-level proficiency in communication skills, personal grooming, fine etiquette, and social graces.
Eunice successfully completed her image training in 2006 and is a certified professional make-up artist. She is personally coached and mentored by Lew Bayer of Civility Experts Worldwide in delivering children and adult civility and etiquette. In 2009, Eunice became one of only eight Master Certified Civility Trainers in the world and is the only authorized representative In Singapore to deliver Civility Experts Worldwide prestigious international Train-the-Trainer programs for both the Children's Character, Confidence and Courtesy Coach® , and the Civility @ Work Certification programs. She has trained many successful people in Singapore, India, Malaysia, Indonesia and Hong Kong in building their children and adult etiquette businesses. Eunice's expertise and commitment to personal grooming, relationship building and business etiquette underpins her Certified Image and Etiquette Professional training course.
In 2014, based on her achievements as a mentor and Master Trainer, she was elected to the Certification Board for International Civility Trainers' Consortium. In 2015, Eunice was awarded as LiveWell Award Winner 2015/2016. The LiveWell Awards is more than just a seal of approval. It determines the winning brands that LiveWell wholeheartedly endorses and appreciates. In 2016, Eunice was interviewed and featured as a Woman of Note and is the proud winner of Civility Experts International Affiliate 2016/2017. In 2017, Eunice was awarded as the winner of Best Personal Brand Award 2017. This prestigious award recognizes acheivements as an individual, in terms of strengths, skills and positioning which have made a positive difference in professional life.
Eunice received personal training in the science of behavourial training from Donna Barratt, a Master's Level Behavioral and Learning Specialist from the United States. She earned status as a Certified Behavioral Coach/trainer for Children ages 4-20 and as a Certified Behavioral Coach/trainer for Parents of Children ages 4-20. She continues to develop her skills under Barratt's Personal Mentorship Program for Coaches/trainers in Behavioral Training.
Eunice is also often quoted on the skills of social interaction, interviewing, grooming and dining in various publications, such as:
•Agence France-Presse
•Shin Min Daily News
•U weekly
•Women's Integration Network Council
•Lian He Zhao Bao
•Duet Magazine
•Young Families
•My Paper
•Sunday Times
•The Sun Paper
•IGNITE ITE Magazine
•Young Parents
•Young Parents Baby
•Today Parents
•Simply Her
•Her World
•Cleo Lifestyle Magazine
•Career Guide 2008
•Makansutra Blog
•Razor TV
•Harper's Bazzar Junior
•L'Officiel Singapore
•Mother and Baby The Sun Paper
•Little magazine
•LiveWell Baby
•LiveWell Woman