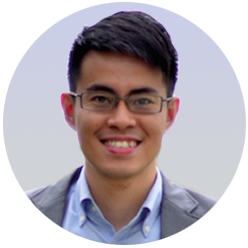 Dr. Tan Kwan Hong
Trainer
As an award-winning public speaker, trainer and coach, Kwan Hong is passionate in helping professionals attain mastery in public speaking, personal peak performance and career growth. He has delivered impactful workshops and facilitated seminars in public speaking, communication, leadership, entrepreneurship and business.
Till date, more than 120,000 participants from over 100 organizations and events have benefited from his speaking engagements. These organizations include A*Star, AON Singapore, Alexandra Health, Ministry of Education, Land Transport Authority (LTA), Halogen Foundation, People's Association, Wimberly Allison Tong & Goo (WATG), and the Young Men's Christian Association. In addition, Kwan Hong has given talks to universities and institutes such as Nanyang Technological University, Singapore Institute of Management, Management Development Institute of Singapore, James Cook University, Singapore Polytechnic, and Ngee Ann Polytechnic. Kwan Hong has also conducted trainings for more than 80 schools, and is also a registered trainer with Ministry of Education (MOE).
Kwan Hong holds a 3 Masters degrees and 3 Graduate Diplomas, in particular, the Masters of Education (High Distinction), the Masters of Science in Finance (Distinction), the Masters of Science in Human Resource (Distinction), the Postgraduate Diploma in Business Administration (High Distinction), the Graduate Diploma in Training and Development (High Distinction), and the Specialist Diploma in Business Analytics (With Merit). He has achieved the highest honors and highest-grading category for all programs, in addition to topping the cohort for several of these programs. Kwan Hong first graduated from the Singapore Management University (SMU) with a Bachelor of Science in Economics and Corporate Communication (Distinction).
In addition, Kwan Hong has obtained three training-related accreditations: The Advanced Certificate in Training and Assessment (ACTA), the Aventis Certified Professional Trainer (ACPT) and the Professional Certificate in Training (PCT). Kwan Hong is also a certified psychometric profiler in DISC, Strong Interest Inventory and Enneagram profiling systems.
Kwan Hong was often invited to judge and adjudicate in national public speaking competitions and Toastmasters speech contests. He is a 2 time Division Public Speaking Contest Champion, and a 7 time Runner-Up. He was ranked top 7 in Singapore and Thailand in 2013, and second in Singapore in 2016. Kwan Hong was also awarded the Distinguished Toastmasters (DTM) title, the greatest honor that can be earned by a member of Toastmasters International, achieved by less than 1% of all members globally. Having accomplished more than 50 communication and leadership awards from the Toastmasters education program, Kwan Hong is an active member of Toastmasters International, as well as the Association of Professional Trainers in Singapore (APTSG).