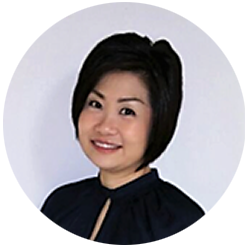 Sandy Chan has been a Leading Air Stewardess with Singapore Airlines, with over 23 years of professional experience. Her expertise in the world of fashion and beauty led her to freelance as a makeup artist.  In addition, Sandy is an expert trainer with SIA Grooming Academy.  She conducts makeup and grooming sessions for flight attendants, ground crew and is involved with their 'giving back' program for underprivileged children. Sandy also supports SIA at national events.  In 2016, Sandy completed the Elite Certified Etiquette Professional © Training delivered by the prestigious Image Flair Academy of Modern Etiquette and is a candidate for the internationally recognised ICTC Civility Trainer's Certification offered by internationally acclaimed leaders in the field, Civility Experts Worldwide.
Sandy feels blessed to be able to travel the world meeting people and experiencing different cultures.  She has taken advantage of this experience and developed an understanding of varying nuances of style and fashion around the globe.  She has learned that personal grooming is important in all cultures and every part of the world. 
Sandy is highly educated, self-motivated and determined, continuously upgrading her skills in makeup, trends and new developments in fashion and grooming. Strong interpersonal and communication skills, support her work in sharing the latest grooming and fashion trends both in and outside of her work, knowing it is always important to be presentable.
Sandy has the professional and personal qualifications to be a Certified Trainer with any accredited training provider in Singapore. She completed a Workforce Skills Qualification (WSQ through the Singapore Government credentialing systems, Advanced Certification in Training and Assessment (ACTA), and a Diploma in Style Coaching from the Style Coaching Institute (UK).  She earned a Diploma in Professional Makeup and Hair Styling from Plato, The Republic Makeup Academy at Top to Toe College of Beauty Therapy and Cosmetology in Singapore and also works as a freelance Makeup Artist for weddings, beauty pageants, festivals, company events, and school proms.
A volunteer in her church with children in their Sunday school, Sandy takes great delight helping develop the leaders of the future by influencing and empowering every individual's self-confidence and exploration of self-expression.  Her hope is to teach others to find their inner beauty and bring it to the forefront as she interacts and engages children through style and etiquette coaching, training and grooming. Her ability to communicate well with people of all ages supports her life work and provides great satisfaction each day.